Awards
Description of International Competitions and Awards
Arthur Campbell and pianist Helen Marlais were nominated for the 2013 International Classical Music Awards, one of the most prestigious distinctions available to classical musicians today.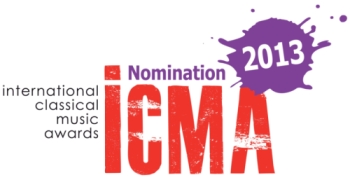 Winner of Fono Forum's Star of the Month April, 2012

Winner of Stereo Magazine's CD of the Month January, 2012

Best of SEAMUS Award, 2011
Campbell's live performance of Benjamin Broening's Radiance at the 2011 National Convention of the Society of Electro-Acoustic Music in the US was selected for the Best of SEAMUS Award.
Recomendado Award, CD Compact Magazine (Spain) March, 2007
Following review in CDCompact by Veronica Maynes in March 2007,
Campbell's recording, J. Brahms: Clarinet Chamber Music
received the Recomendado Award.

Magnifique Award, Opus Magazine (France) March, 2007
Following review in OPUS by Jean-Jacques Millo in March 2007,
Campbell's recording, J. Brahms: Clarinet Chamber Music
won OPUS magazine's Magnifique award.

Supersonic Award, (Belgium) January, 2007
Pizzicato Classical Music Magazine, Luxembourg, gave Campbell's Brahms recording the Supersonic Award following review in the magazine in January 2007. Click to see announcement. (PDF)

Winner in the International Web Concert Hall Competition 2001
In September 2001, Campbell was selected as one of six winners of the 2001 International Web Concert Hall Competition. This important new international competition, which began in 1999, has quickly established itself as one of the leading competitions for professional classical musicians because of the worldwide exposure the winners receive. The competition is not limited by category and is open to pianists, instrumentalists of all types, and to singers. In 2001 six winners and one overall winner were chosen. Campbell was the only wind player to be selected as one of the six winners. The overall winner was Russian cellist, Denis Shapovalov, winner of the 1998 Tchaikovsky Cello Competition. Campbell will have performances broadcast on the Web Concert Hall for the next five years and each broadcast is announced to concert booking agents and classical music related organizations throughout the world. As one of the 2001 winners, Campbell has been featured in press releases and articles in newspapers and journals throughout the world, and has given an extensive interview for the online classical music journal, MusicalOnline. To listen to the broadcast, see artist interviews, and program information see www.webconcerthall.com.
U.S. Department of State: American Artist Abroad Award, 2000
In August of 2000 Campbell was awarded the prestigious American Artist Abroad Award. The U.S. Department of State sponsors the competition for this award. Winners are selected as representatives of the highest levels of arts activity in the United States for international audiences. Other recent winners of this award include, The American String Quartet, NY composer/performer Philip Glass, and Grammy Award winning vocal group Chanticleer.
ICA International Competition Winner and Featured Artist, 1996
To launch their CD recording project, the International Clarinet Association held an international competition, which accepted 74 contestants from 12 countries. Campbell was one of six overall winners chosen and one of only two solo artists to be featured on the CD recording Music from the ICA.
National Music Festival of Canada, Top clarinetist, 1988
And winner of Second Prize overall Woodwind category
Arthur Campbell holds the distinction of being one of only three people ever to have completed a doctoral degree as a student of renowned clarinetist and pedagogue Robert Marcellus.