Commercially Released Recordings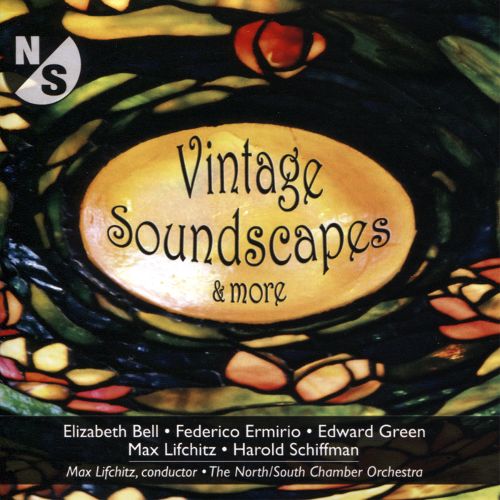 Vintage Soundscapes & More
Max Lifchitz / North/South Chamber Orchestra
2017
Mr. Green's Concerto for Clarinet and Strings, revised from an earlier work for saxophone and string orchestra, opened with a relaxed lyricism reminiscent of Hollywood's take on Copland's music... ...Arthur Campbell was the eloquent soloist, sounding especially strong in his rich lower register.
~ The New York Times

In Mr. Lifchitz's "Night Voices No. 16," for clarinet, strings and percussion, Mr. Campbell was more clearly the focus. Unaccompanied for long stretches, his clarinet sang, purred and growled ornate soliloquies during the fitful work, as strings murmured and a percussionist punctuated the flow.
~ The New York Times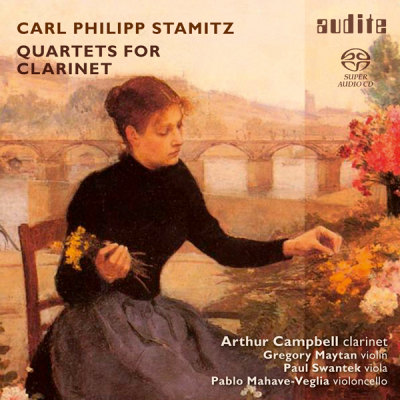 Quartets for Clarinet and Strings. Carl Philipp Stamitz.
Audite. 2013
Arthur Campbell, clarinet, Gregory Maytan, violin, Paul Swantek, viola, Pablo Mahave-Veglia, cello. Recording producer: Ludger Bockenhoff. Executive producer: Ludger Bockenhoff. Editing: Justus Beyer. Recorded on Patricola, Virtuoso clarinets.

"This may be universally the sunniest music composed of the period, and there is not a low spot in the repertoire. This SACD-hybrid recording has brilliant sonic fidelity that does not sacrifice warmth for digital perfection, yielding readily this grandly paced music, well- dispatched by Campbell and company."

~AllaboutJazz.com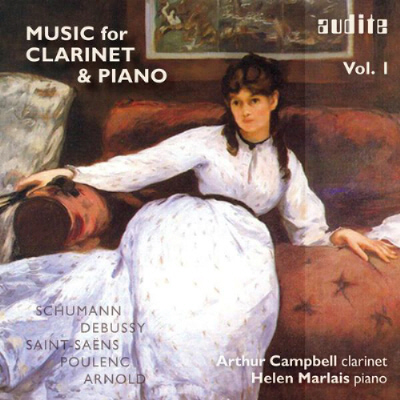 Music for Clarinet and Piano
Audite. 2012
Arthur Campbell, clarinet with Helen Marlais, piano. Banff Centre. Recording Engineers: Jeremy Tusz and Etienne Decreuse. Sound Supervisor: David Gleeson. Producer: Benjamin Broening. Executive producer: Ludger Bockenhoff. Winner of Fono Forum's Star of the Month and Stereo Magazine's CD of the Month.

Campbell and Helen Marlais were nominated for the 2013 International Classical Music Awards.

J. Brahms: Clarinet Chamber Music
[Super Audio CD] Audite. Oct. 2005
Arthur Campbell, clarinet, Frances Renzi, piano, Denis Raclot, cello, Jean Pascal Meyer, piano. November, 2005. Berlin, Germany. Winner of critics choice awards: Pizzicato Classics' Supersonic (Belgium), CD Compact's Recomendado (Spain), and Opus HD's Magnifique (France).

To order, or read more about these recordings visit: www.audite.de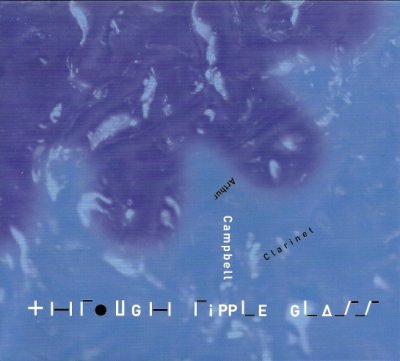 Through Ripple Glass
Everglade Records. 2013
Arthur Campbell, solo clarinet, with electro-acoustic processing/accompaniment by Benjamin Broening, Kui Dong, Elizabeth Hoffman, Colby Leider, Maurice Wright. Miami, Florida.
Music from the Third Practice
Centaur Records.
Compact Disc Recording. Recorded November, 2002. Released 2003. Arthur Campbell, clarinet, with F. Gerard Errante, clarinet, Helen Marlais piano, Benjamin Broening, electro-acoustic processing, Natash Barrett, digital processing. Centaur Records is a leading label in contemporary and early music.
Premieres!
Arthur Campbell, clarinet, Helen Marlais and Dmitri Novgorodsky, piano. Peterborough, NH: Gasparo Records, 2001. Compact Disc Recording.
Features pieces written for Campbell by:
Shulamit Ran – Three Scenes for solo clarinet
Augusta Read Thomas – From Icarus with Gusto
Bruce Saylor – Cantos from the Inferno
Pieter Snapper – The Madeleine in the Mercury
Andrew MacDonald – Sonata for Clarinet and Piano
Chin-Chin Chen – The Turning Point
Music from the ICA '96
International Clarinet Association. Shawnee Mission, KS: Released 1997. Compact Disc. Campbell, Arthur, clarinet – Lignon, by P.M. Douglas. Freeman, James - Air for Solo Clarinet, by Philip Collins. Rheude, Elizabeth and J. Hershberger – Kaleidoscope for Clarinet and Piano, by James Fry. The Prestige Quartet – Three Sketches, by Augustin Kubizek. Trio Chalumeaux – Lexington Trio, by Norman Heim. Williams, Nathan and Audrey Andrist – Intimations, by Sebastion Currier.